Discover more from Old Rope
Let's learn from the east 🌏
What can we learn from a $4.5B English live learning platform- VIPKid?
Spent some time researching on VIPKid, with conclusions compiled in a 10 min read. Read on for insights into VIPKid and China's and India's live English tutoring landscape!
VIPKid is a live tutoring platform connecting students from China with English teachers in North America. The company was established in 2013 and is the brainchild of Cindy Mi, who was herself an English tutor and ran an English teaching institute called ABC Learning.
Market
English is taught in the Chinese public schools for 10+ years, but still English language training is a sizable market ($41B in 2019, and projected to reach $111B by 2024). A major driver for this is that all subjects, including Math, Science, Social Science, are taught in the Chinese language. In comparison, English-medium schools in India use English for instructions in all subjects, rather than the local language. Therefore, the students in China do not develop the habit of speaking the English language at school.
In spite of this, the emphasis on fluency in English has been prevalent in China as a result of the cultural consequence of globalization. In fact, China has the highest number of students travelling overseas over education (~700K annually), making fluent English=speaking skills an imperative to get admission.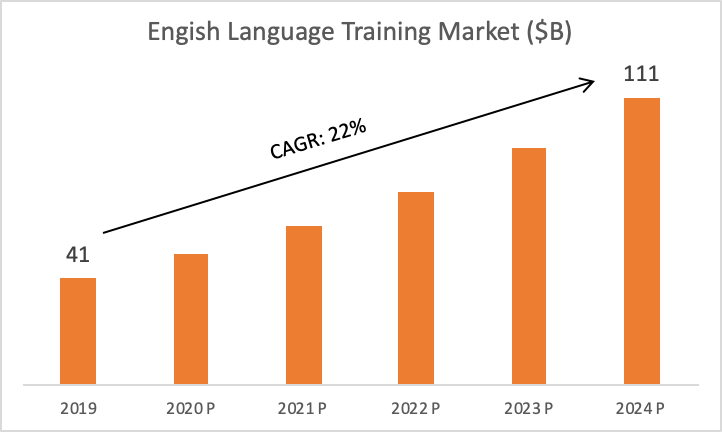 Source: Technavio
China has various players offering Engling-language training both offline and online. For example, New Oriental (新东方) (established in 1993), popular for offline English training, is worth ~$30B (listed on NSE). There's an interesting movie on the company, which also gives sense of the development of English Learning in China: Check out American Dreams in China
Education First, a Swedish private company, operates 300+ schools in China for English training across 60 cities and is popular for its high quality foreign instructors. Chinese parents prefer native speakers as teachers if affordability is not a concern.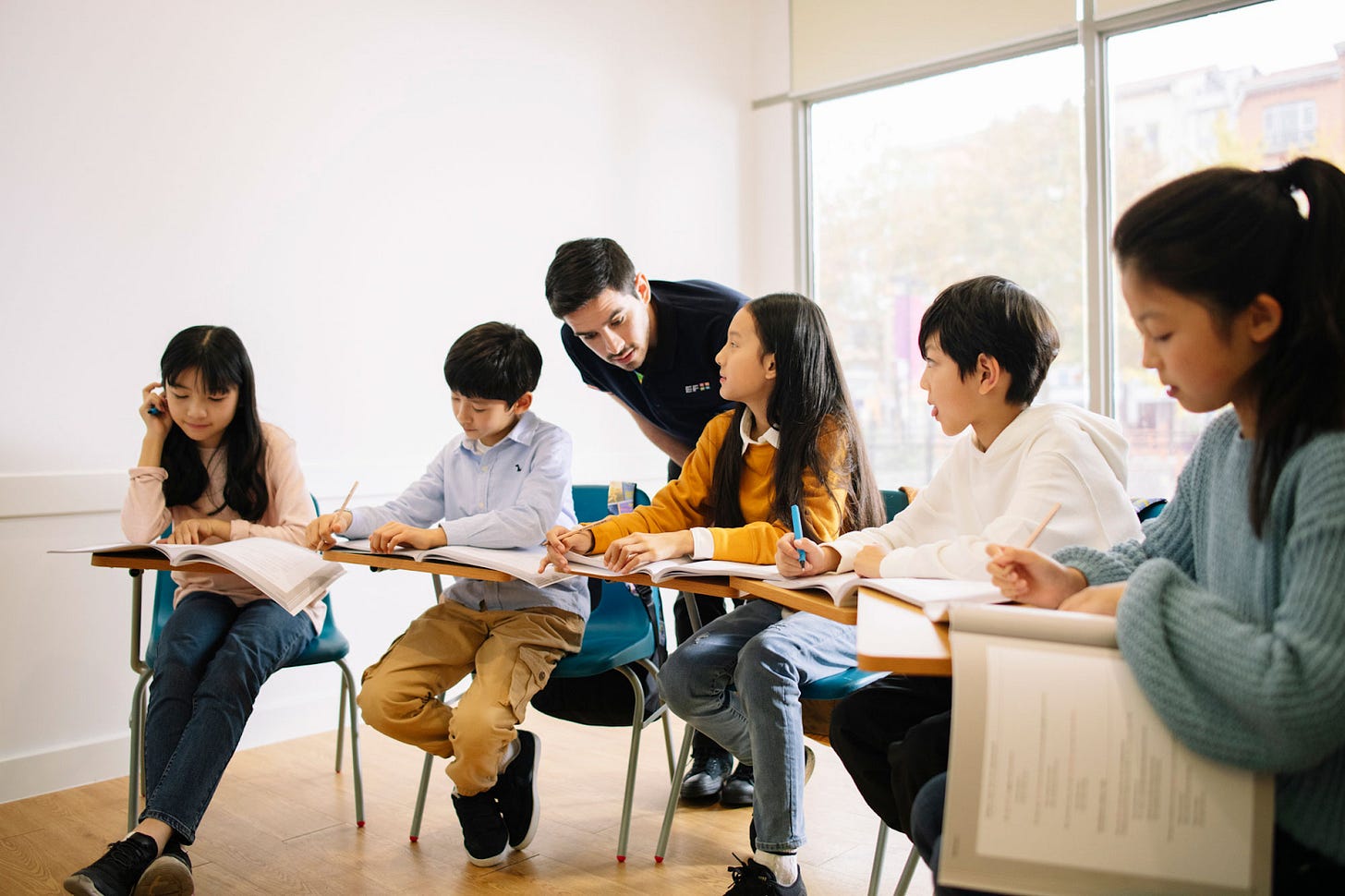 The online English-learning market is also quite vibrant, with companies like iTutorGroup, VIPKid, DadaABC, 51Talk, etc., who have solved the need for great supply and convenient online experience. In fact, this market is expected to grow manifolds in the post-Covid world, since the general behaviour towards online education has seen a positive realisation in the parents about the easy availability of high quality education without worrying about the logistical hassle of dropping and picking their kids to any center.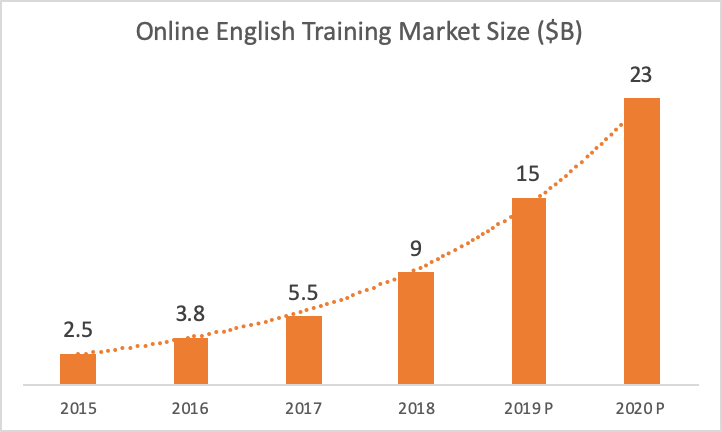 Source: The Frost & Sullivan Report
About VIP Kid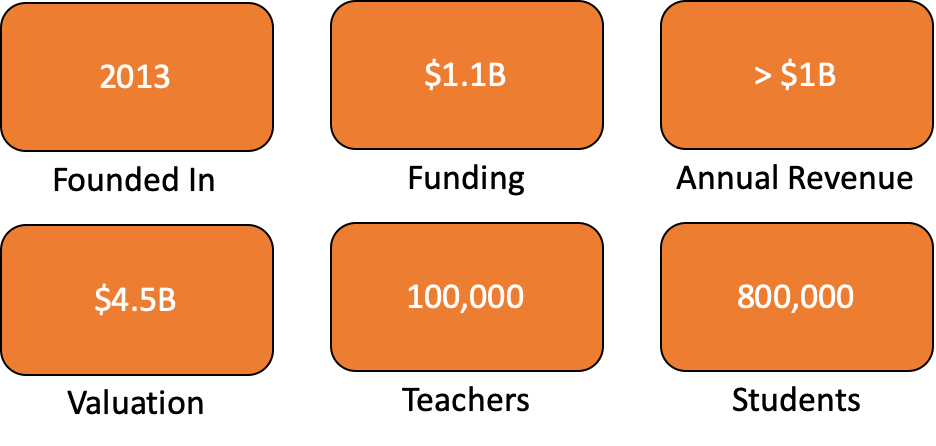 VIPKid is a managed marketplace of native English speaking teachers from North America, where Chinese parents can hire them as tutors for their children (5-12 years old) for online live classes. Here's a live recorded class:
There are 3 important stakeholders at VIPKid- Teachers, Parents and Students. Let's go through each one of them.
Teachers
The demand for high quality foreign teachers has been pretty high in China, especially since the country has over 200M students across different age groups with a willingness to learn English.
The main problem so far has been the supply of high quality teachers. To solve this, VIPKid built a robust teacher supply mechanism along with standardized pedagogy for the classes, making most of the availability of 5M+ English Teachers in North America.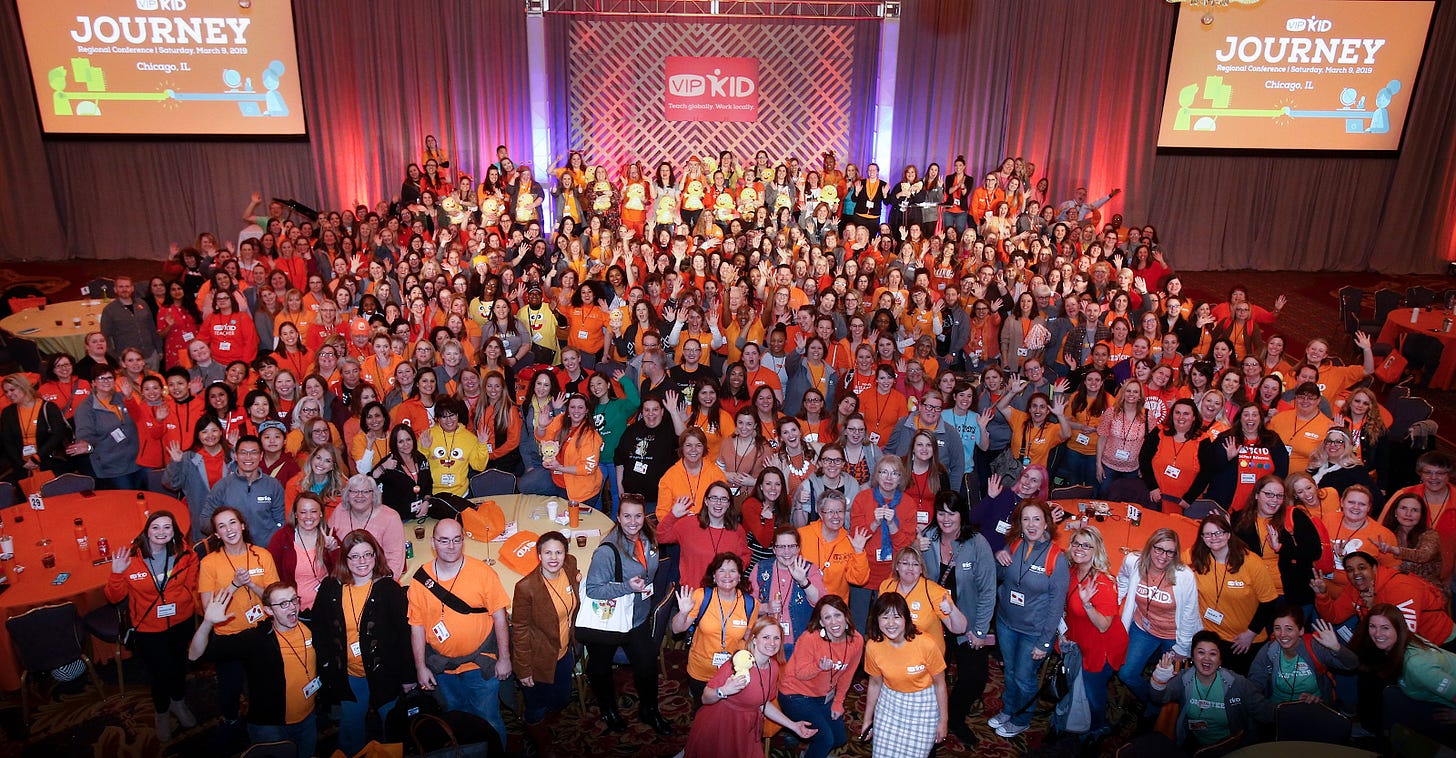 More than 500 VIPKid teachers in Chicago Conference

Teach globally, work locally
With a local supply team in the US, VIPKid has been able to build a pool of 800K+ English Teachers from North America. Here's a quick look into their ad campaign for teachers.
The payment is structured in the following manner: Base Pay + Incentives
Base Pay: $7-$9 per class (25 mins); Incentives: $0.8-$2.9 per class
Incentives are offered by the company to ensure that a teacher's retention is increased over time.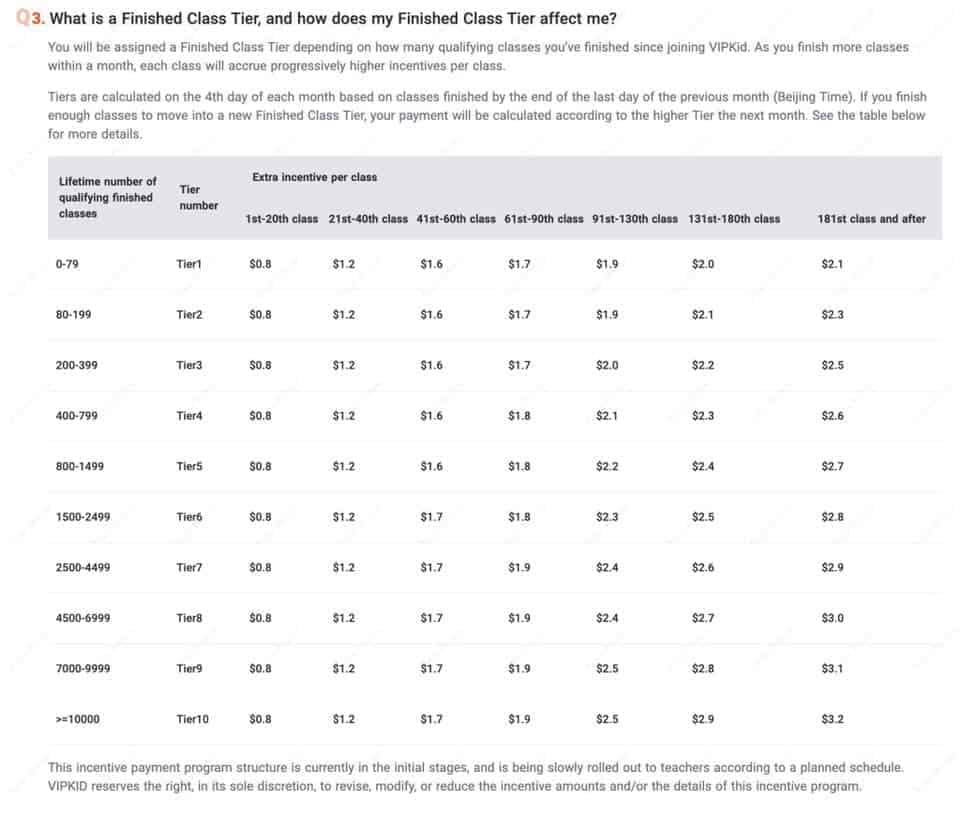 The chart above illustrates the VIPKid incentive structure
Additionally, VIPKid pays $5 extra to a teacher where a trial user successfully converts to a paid subscriber.
Recently, VIPKid has changed its compensation structure to improve its operational profitability, but the company has not received positive feedback. More learn on this here. (Will discuss this again in the conclusion)
After acquiring its power teachers with strong incentives and pay, VIPKid has been able to compound supply of teachers through its referral programs (similar to Uber) with $100 paid to the referee for every teacher who passes the application process and starts teaching. Many VIPKid teachers run channels on YouTube to promote VIPKid and also influence direct referrals from there.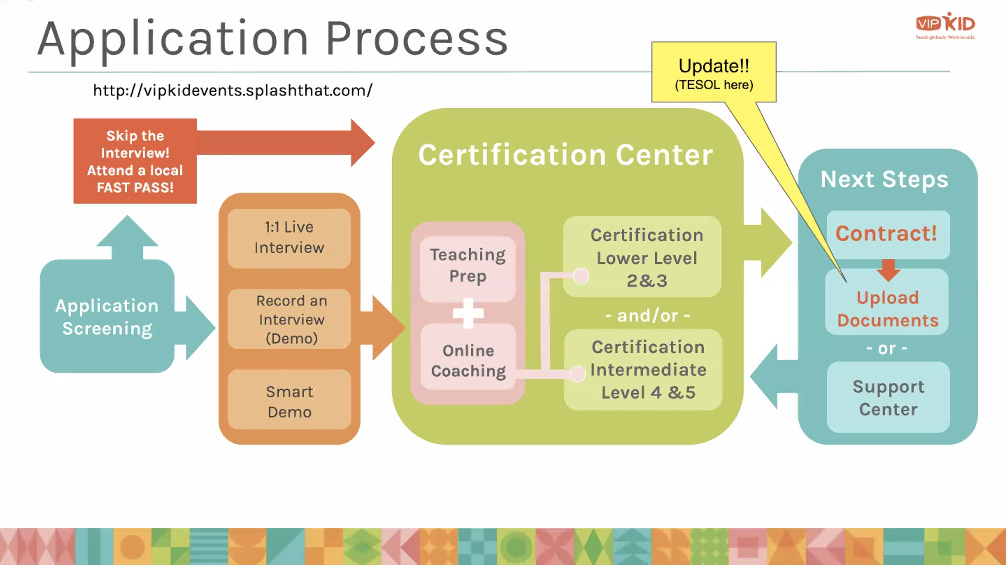 VIPKid has a robust screening process that allows it to maintain a high quality of its teacher base. It is reported that only about 10% of the applicants end up qualifying through this process.
Teaching with VIPKid is very seamless since the curriculum is designed by an internal curriculum team, which makes the content across classes standardized. The classes are designed based on levels and within each level there are 12 units. Within each unit, there are 12 lessons. Across the lessons there is a focus on new vocabulary, sentence frames and grammar concepts, along with constant assessments and review of concepts studied before. The kids are supposed to work on a project by the end of a unit. The classes are also supported by props and visual aids. This is a great summary of the curriculum style. In essence, the curriculum is based on CCSS (Common Core State Standards Initiative).
Important to note that VIPKid's curriculum design has ensured the scale of its business.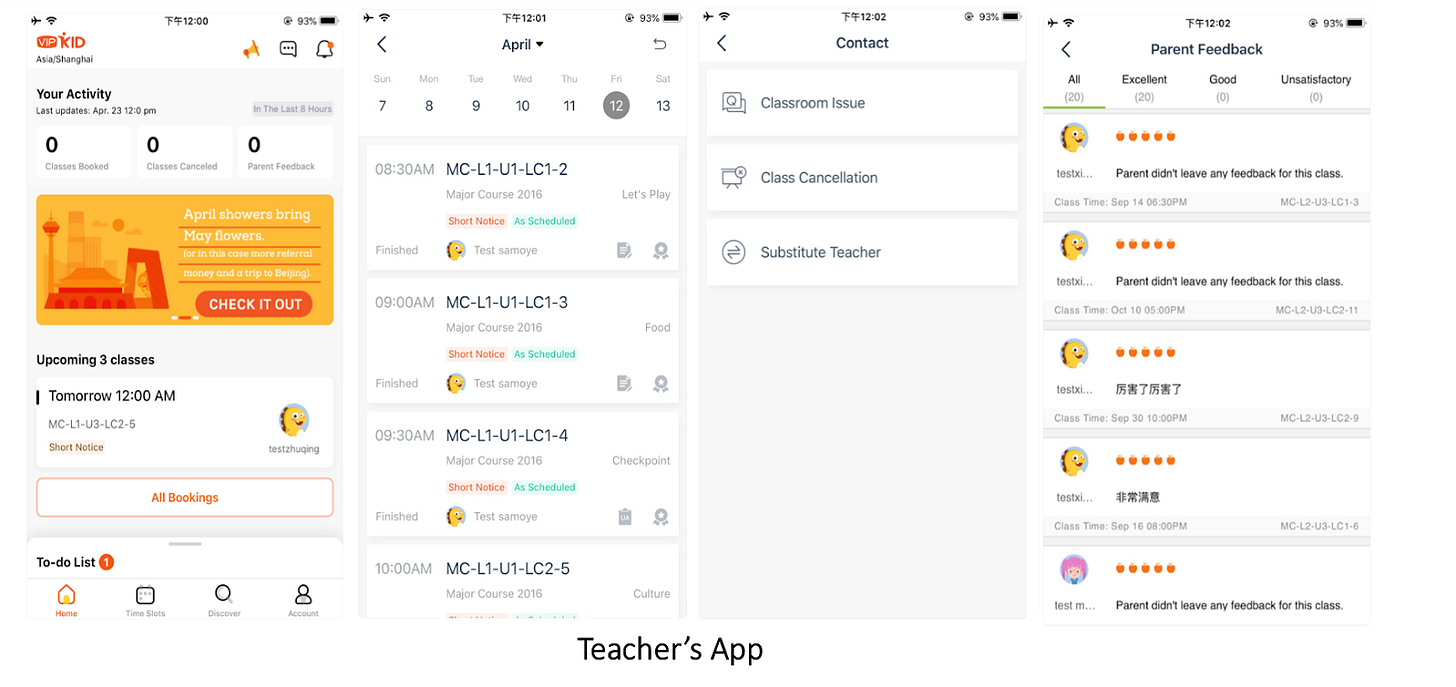 Parents & Students
In my opinion, the crowded education market in China is driven by parents seeking to provide world-class facilities to their children to ensure excellence. Resultantly, the Chinese education culture is extremely intense, with parents experiencing peer pressure to catch up with other parents, irrespective of their financial status. According to China News Weekly parents spend upto 40-50% of their income on bringing up a child.
I believe this 'peer pressure' is one of the key drivers for VIPKid's growth.
English as a Second Language
Importance of English in non-English speaking nations is increasing and most of the parents in China are themselves not fluent in English. Hence, they want their children to learn English and be fit for the global world.
VIPKid uses this as a fundamental issue in its ad campaigns, sales pitches, etc.
Here's an example from its latest ad campaign.
VIPKid booth at an exhibition
VIPKid works through a common lead model, where its acquires leads through its website and app, and then tries to convert a parent to a paying subscriber. On signing up on the app, you can either book a trial class yourself or one of the sales executives will contact you to book a trial. They call until they fail.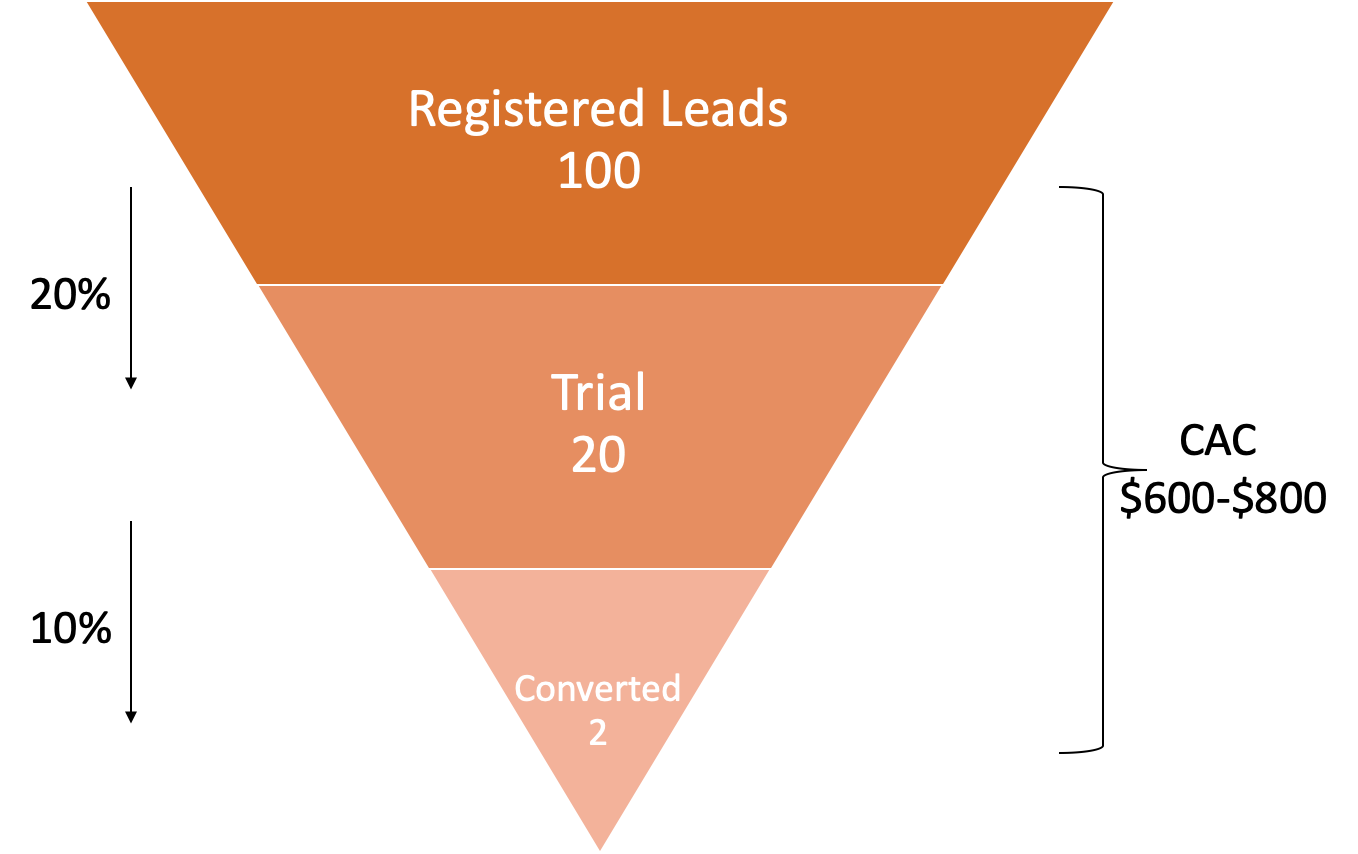 Estimation for CAC based on secondary sources.

Post the trial class, parents can choose to pay for different options. The more units (classes) they purchase at once, the lower is the fee. The fee per 25 minutes of class is $21-$24 (approx).
Average revenue per paying subscriber is around $1200-$1400 (estimated).
Students have a 1:1 class online followed by homework. On an average, a student does 50-70 classes (as per my estimate) in a year. Students generally attend the trial class and the first few classes with their parents watching on the side, because they might need some assistance to navigate. Eventually, the children attend the classes by themselves and all the classes are recorded and are available on the parent app for view.
Parents can post the videos of their kids and also share them on various social platforms like Tiktok, WeChat, etc. which allows outreach to other parents tand influences them to consider using VIPKid or similar platforms.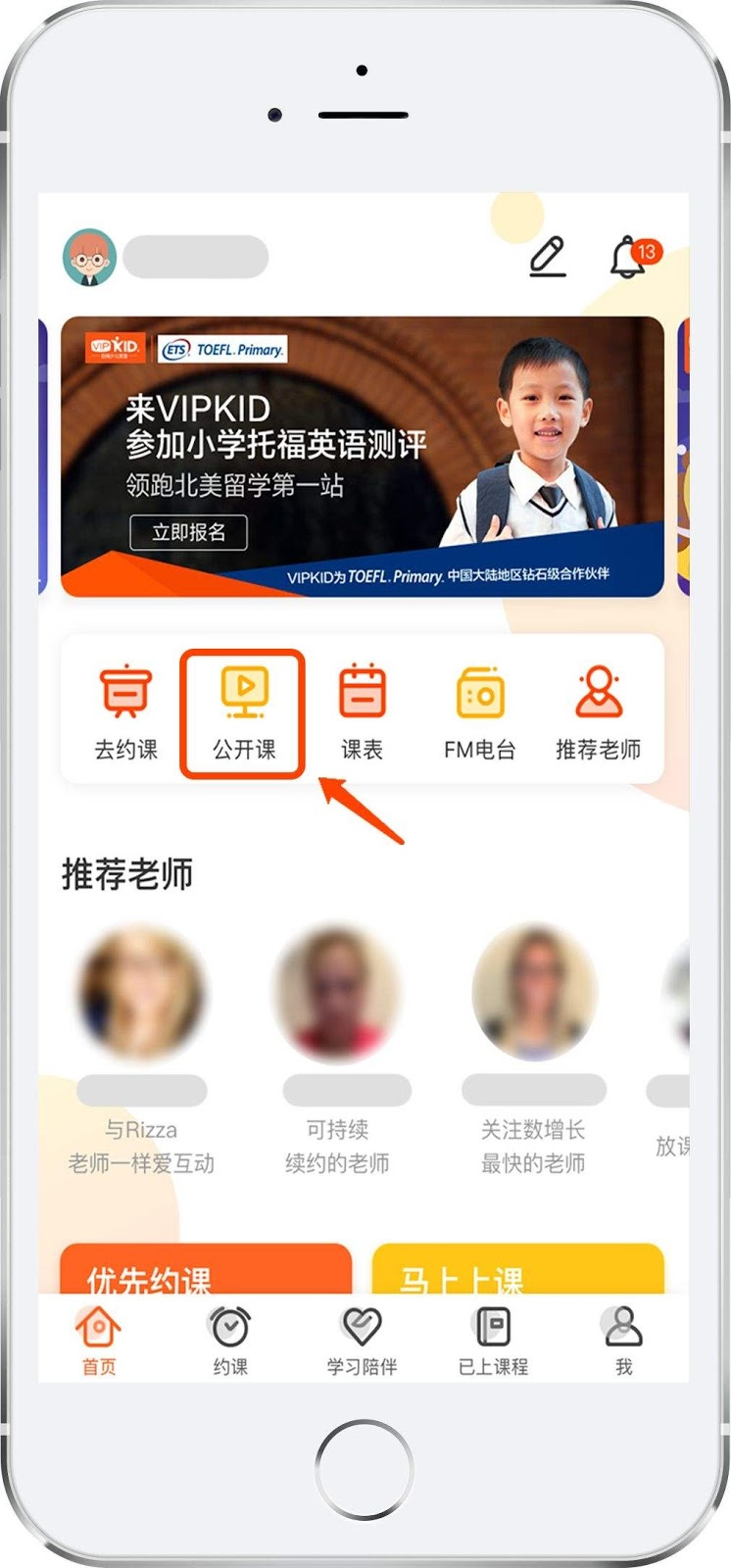 Parent app for selecting teachers and posting in the community
Fundraising and Valuation
VIPKid has raised over $1B with a staggering valuation of $4.5B. It was planning to raise a round of $500M-$600M at $6B in 201,9 but due to profitability concerns, it did a $150M round with Tencent backing the company, having invested in previous rounds too.

There are a lot of concerns in the market around the sustainability of VIPKid since it went through a firing spree last year due to worsening profitability even after a strong topline of $1B+, due to huge CAC incurred by it.
VIPKid's latest Universe:
Apart from the VIPKid app, the company has also launched:
1. LingoBus: VIPKid for overseas students who want to study Chinese (mostly children of Chinese parents overseas) to use the underlying technology and supply of teachers available in China.
2. Say ABC: English Learning platform with 1:n model with one teacher and 3-5 students in one class, essentially to improve unit economics.
3. VIP Feng Xiao (VIP蜂校) is a platform like VIPKid but has an option to choose from Mainland Chinese or American teachers (but for learning English). The value add of Chinese teachers is such that they can help in clearing exams since they are aware of the local test environment.
The company has also launched a self paced learning app as well as a gaming app.
Unit Economics Per Student: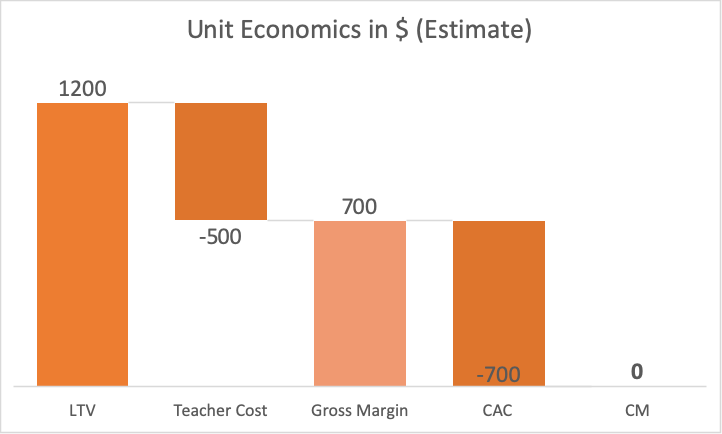 Please note that the above graph is an estimate of the hyper growth scenario at VIPKid. This was seemingly the case during 2018-19, during which time the company was growing rapidly, but was not sustainable due to its business model that did not allow for a high operating margin. Consequently, the company had to downsize and raise a smaller than expected funding round to sustain its operations.
According to industry peers, VIPKid is focusing on operational profitability in the coming quarters. I am hopeful that the pandemic should have led to some additional demand at lower CACs from the offline coaching players like New Oriental, EF, etc.
Competitive Landscape in China
Since China is a vast market, there are several well-funded companies operating in the market for live-tutoring services of English (also leading to high CAC!). The major points of differentiation are the teachers, and their native country can further influence the class' price. For example, 51Talk is able to offer more affordable classes because it employs teachers from the Philippines, which is considered a non-native English speaking country in China.
Further, many platforms also offer 1:n class formats which makes the unit economics sustainable.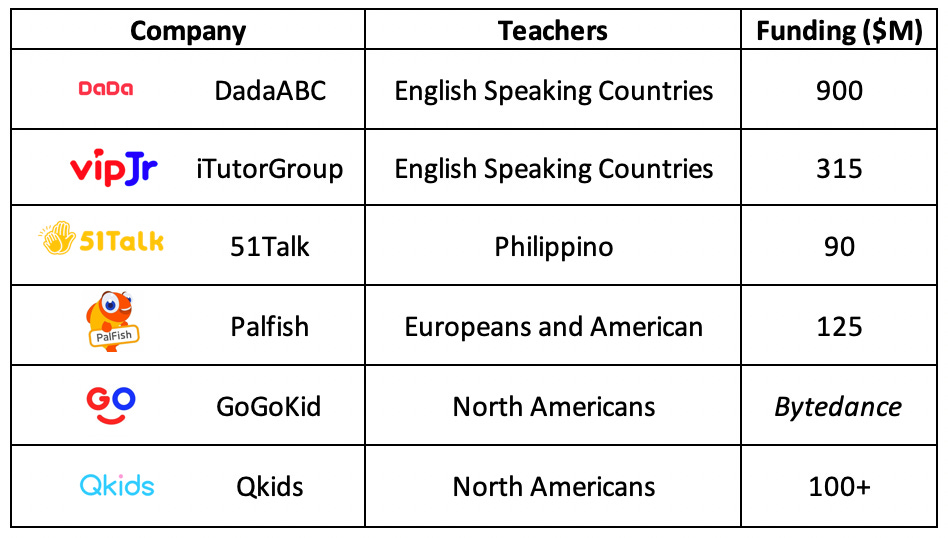 It is important to note that these are only live tutoring companies for English but there are several self-paced digital learning apps, which I don't even want to discuss today. It is already getting so long, isn't it?!
Indian English Learning Market
I have come across various companies in India who are taking inspiration from VIPKid, DadaABC, etc. (even mentioning them in deck to define market potential). However, there are some major differences between India and China in terms of English as a second language.
India has the maximum number of English speakers in the world after the US.
English is not a luxury in India ,and has become more of a necessity for moving up the social and class ladder. Accessibility to English-medium schools in tier 1-3 cities is relatively high. For my non-Indian readers, English-edium schools are schools where the language of instruction is English for all the subjects like Math, Science, Social Science, etc. We used to get punished in my school for speaking any language other than English in class. Hindi Medium is a great movie to understand the schooling system in India and the importance attributed to English-medium schools.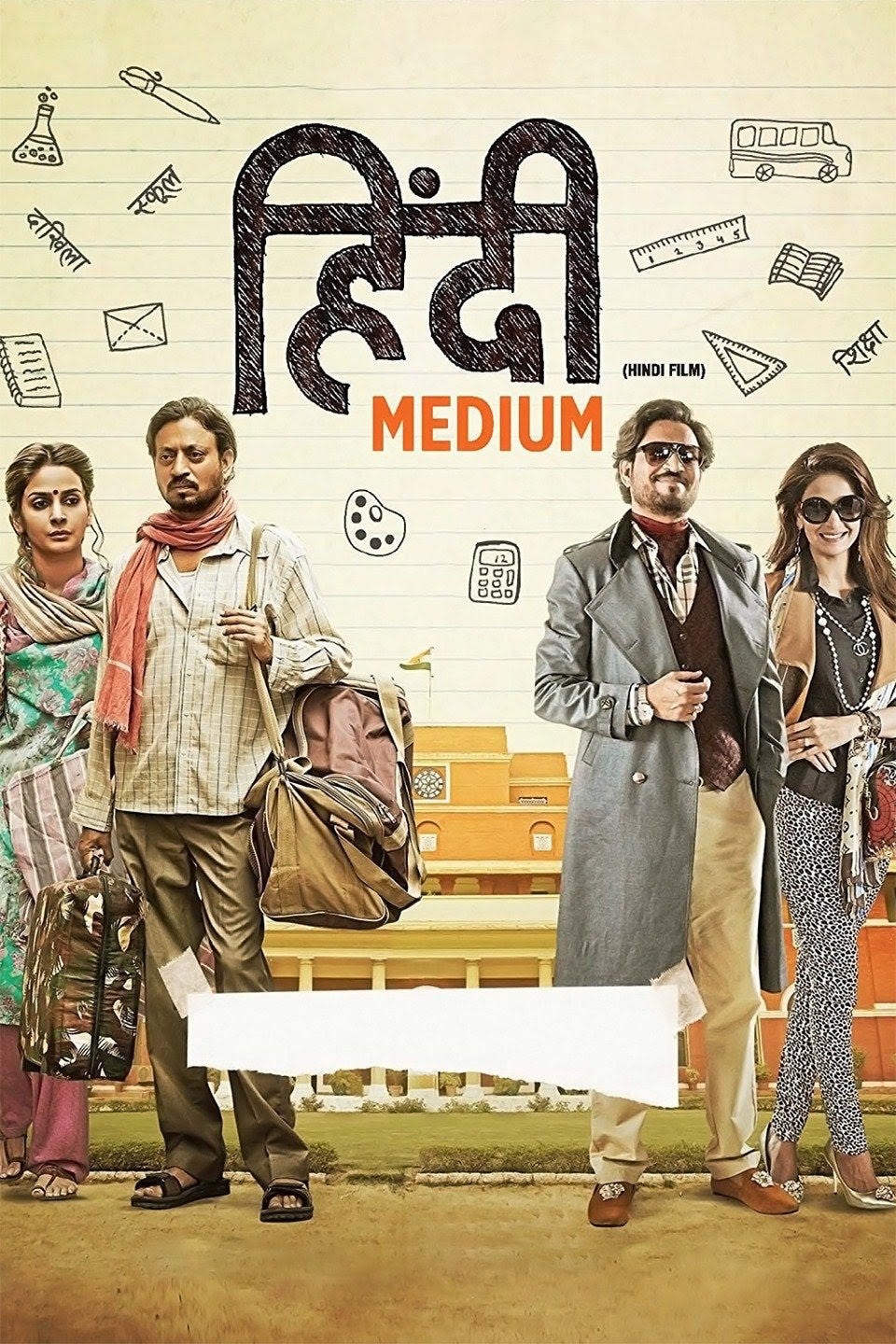 Poster of the movie- Hindi Medium
In spite of the tremendous influence of English-learning in India, Indian parents do not attribute a high (dollar) value to after-school English language lessons (unlike China). Therefore, there are no prominent companies enabling online or offline tutoring through native speakers in India.
After-school English in India is more relevant for spoken English practice.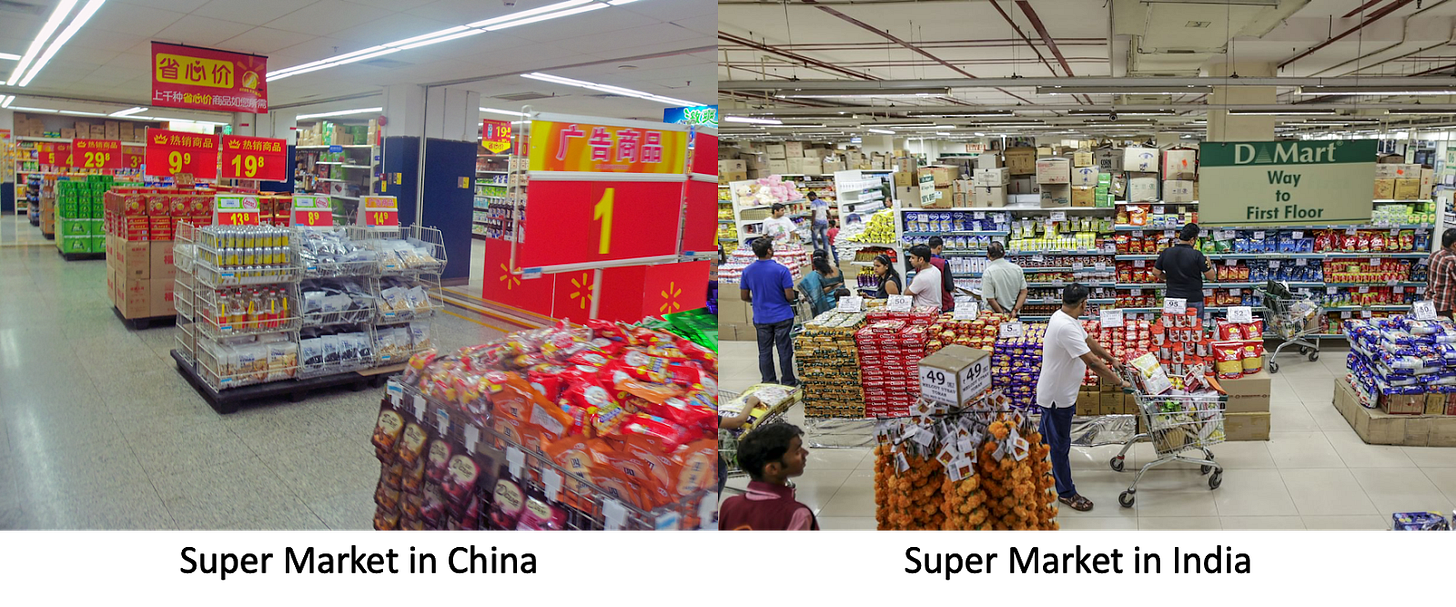 If you watch closely, you will find all the display boards mostly in Chinese whereas in India, it's common to come across those in English.

If we mirror the existing offline behaviour in English learning in India, I think there are opportunities in the following areas:
K12

Upskilling/ Blue collar

Government exams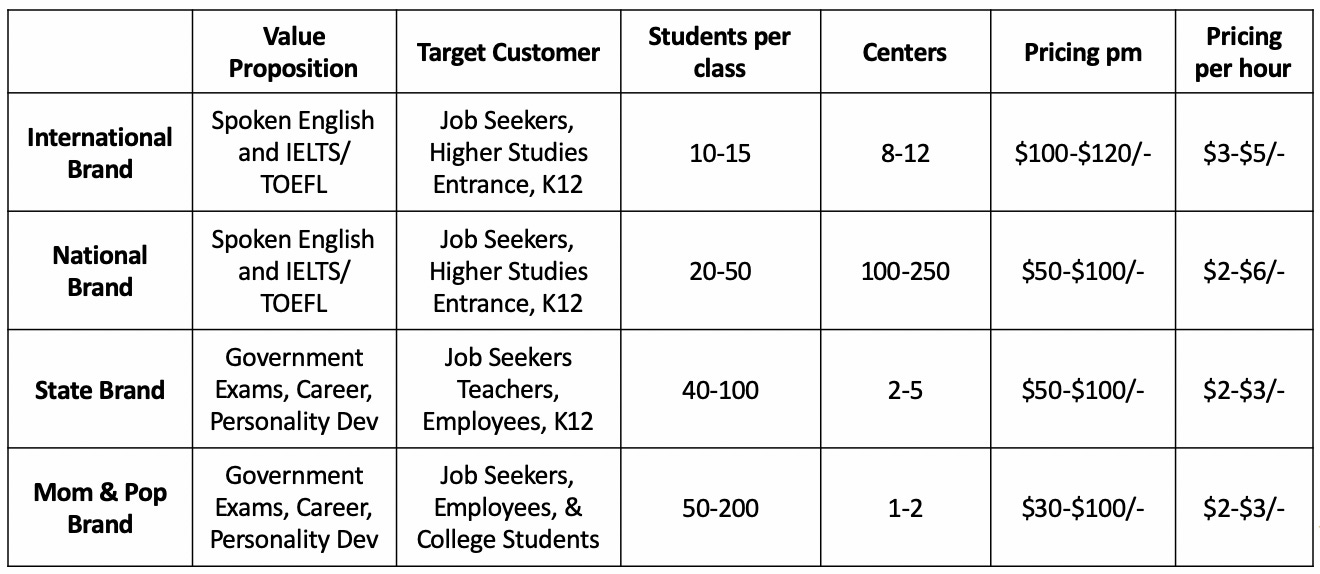 There is no brand which has broken out and the market is fragmented.
While it is still early for live English tutoring for K12, the Covid-19 pandemic has accelerated or given birth to various startups. For some horizontal edtech players, English is becoming a hot category!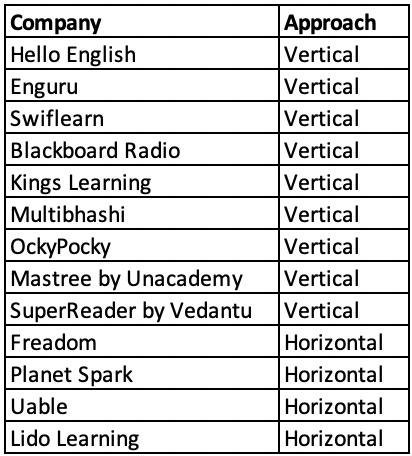 English Live Tutoring Platforms in India
Some early stage startups in India are focusing on live English tutoring for K12, but none of them seem to have broken out. It's interesting to note that Mastree (acquired by Unacademy) has shifted its focus from a horizontal platform to a vertical focus on English, and Super Reader has been launched by Vedantu to capture a share of this market. Unacademy and Vedantu have cash in the bank to consolidate the market. Lido Learning has also raised over $15M+.
Conclusion:
Let's sum up the key learnings from VIPKid which are relevant for early stage startups in language learning space:
Take inspiration from:
Standardization of pedagogy and curriculum helps build great supply and then scale the operations wide across.

Huge supply with focus is important for the long term sustenance of the business and building a strong brand.

Proprietary technology platforms can help one own the user experience for the teacher as well as the student, unlike using platforms like Zoom which cannot be customised completely.
Avoid the mistakes like:
Unsustainable unit economics can cause concerns around profitability at the cost of quality and lead to downfall of the company. It's important to focus on them early on to build a sustainable and sound business, while focusing on quality.

Having less options for the users can restrict your audience (and also hurt unit economics). It's worth considering having more options like 1:1 and 1:n class formats along with different kinds of teacher supply which increases the access for the platform.

Due to less renewal rate, it can become difficult to break even on the users acquired (since the CAC is extremely high). Early on, build levers to increase renewal rates so that the LTV to CAC ratio is in the range of 4:1.

Setting right expectations for the teachers is important. By changing the prices and incentive structure later on could hurt teacher supply, especially when there are several competitors teachers can move to companies which can offer better terms. Teachers are the most important piece of this puzzle.

A firing spree at a company in a growing market gives a bad signal to the market as well as the end users. It's important to plan well in terms of fundraising, hiring and expansion. It might be rational to focus on profitability instead of just growing topline, after a certain scale.
If this ends up in the 'promotions' tab, please add the email address to your contact list.