Discover more from Old Rope
Let's learn from the east 🌏
Analogies from biggest EdTech startup- Yuanfudao's growth (China) for BYJU's Growth in India
China has been one of the fastest growing EdTech markets and now companies across the world are seemingly picking up best practices from China.
Yuanfudao (YFD) is the most valuable Ed-Tech startups in the world ($15.5B) and a household K12 brand in China. We explore the company's journey, and map its strategy to Byju's rise in India. We also discuss the nexus between BYJU's $11B valuation and irrational investor exuberance.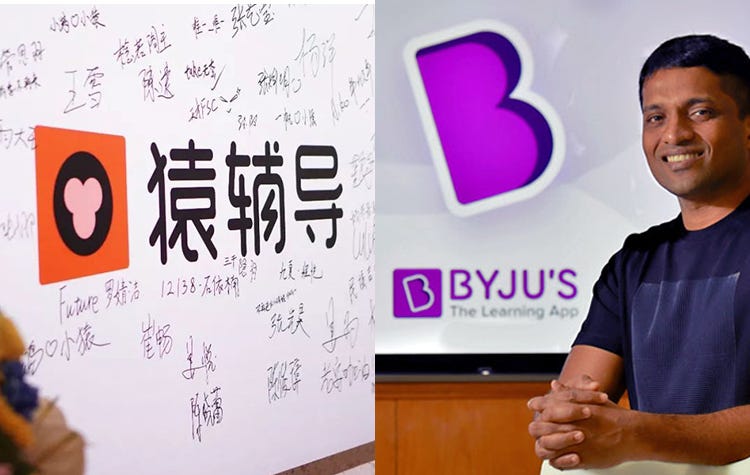 China's EdTech Industry has grown 6X in the past decade at $38B in 2019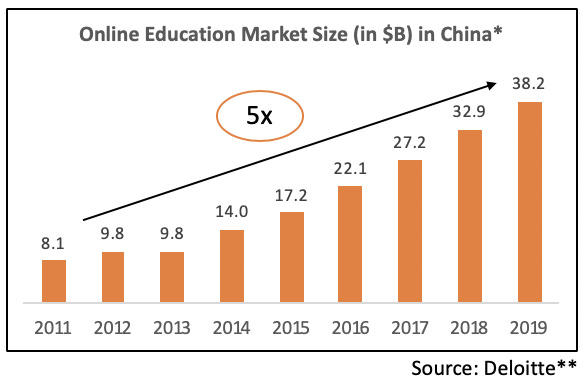 The Covid-19 pandemic has created an unprecedented boom in online education across the board. This shift has been less dramatic for the Chinese online education ecosystem, which had already grown to maturity. 
However, much like e-education companies elsewhere, Chinese education companies have also projected Covid-induced growth of 2–3X. This is especially since big offline players such as TAL (学而思) and New Oriental (新东方) are swiftly adopting online medium for after-school education. 
Provided below is an illustrative list of key drivers of online education in China:
 → Large internet userbase
 → Mass adoption of digital payments backed with a willingness to pay digitally
 → High literacy rates
Relatively, India lags behind China on these metrics. However, it is tipped to catch-up with its Asian neighbour in the coming years.
Gaokao (高考) — The Chinese Boards/JEE/NEET Combine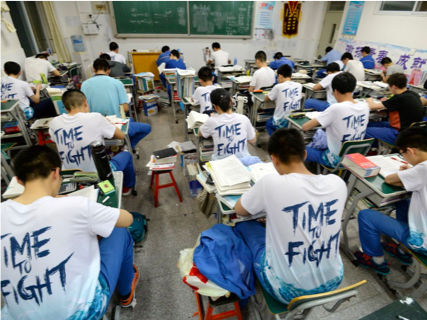 Students appearing for GaoKao 2019 (Source: Google)
Around 10M students appear for GaoKao every year. It is a 'super entrance' test, which determines the discipline and college for students' graduate education. Resultantly, the test is a crucial event in a student's journey.

Apart GaoKao, Chinese students give several competitive exams through their school life - for admission in a primary school, middle school, high school, and so on. Such a competitive education system has created a mature after-school K12 learning ecosystem in the country.
Yuanfudao (猿辅导) — The 
$15.5B 
K12 Behemoth
Yuanfudao ('YFD') is an umbrella company catering to online learning for primary and secondary school students, with solutions varying from digital to live learning.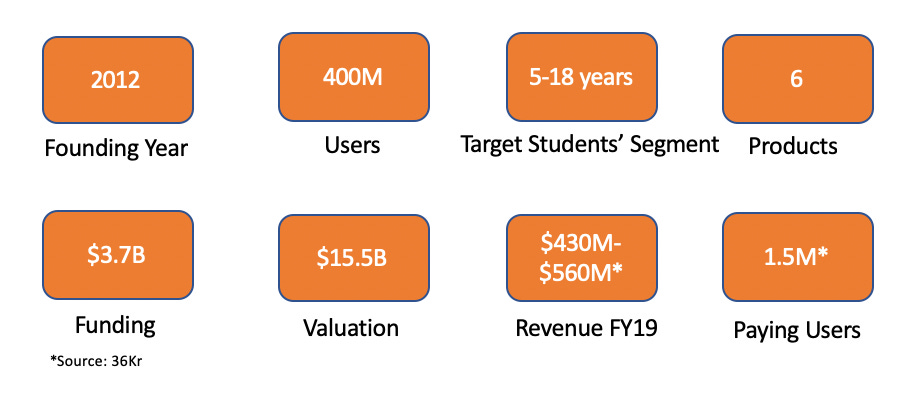 Further, in March 2019, YFD launched the Bangalore-based Oda Class, a 1 to many live-learning platform for class 6–12 students in India.

Continuing its exceptional growth, YFD is expected to reach $1B revenue in 2020
A Synergised Portfolio — The Key to YFD's growth?

YFD started as a question bank / doubt solving app, Xiao Yuan Sou Ti (小猿搜题), similar to Doubtnut. It then leveraged users of its existing services to successfully up-sell its subsequent live class model.
Similarly, the company launched Ban Ma Ying Yu (斑马英语) in 2017 — an English learning application for 2–8 year olds. With this offering, YFD acquires students at an early stage of their education cycle, holding them till they appear for GaoKao, which results in a high LTV/CAC.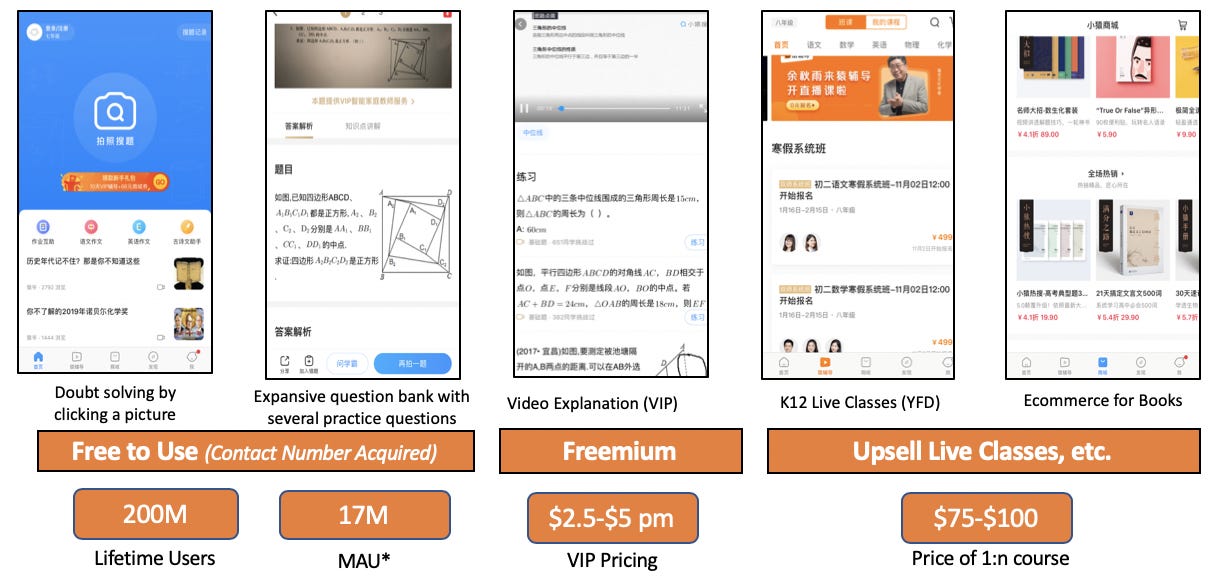 Ability to cross-sell has enabled strong monetisation and growth for YFD
EdTech China → Horizontal Play vs. EdTech India → Vertical Play
YFD's successful portfolio is comparable with offerings of BYJU's, Doubtnut, Vedantu, WhiteHatJr, among others. As mentioned above, the company's first app, Xiao Yuan Sou Ti, offered a doubt-solving proposition, which was analogous to Doubtnut's. However, given that Xiao Yuan Sou Ti and Doubtnut have similar scale of MAUs (15–20M), YFD's solution scaled to a ~$8B business, while Doubtnut is expected to be acquired by BYJU's for ~$100M.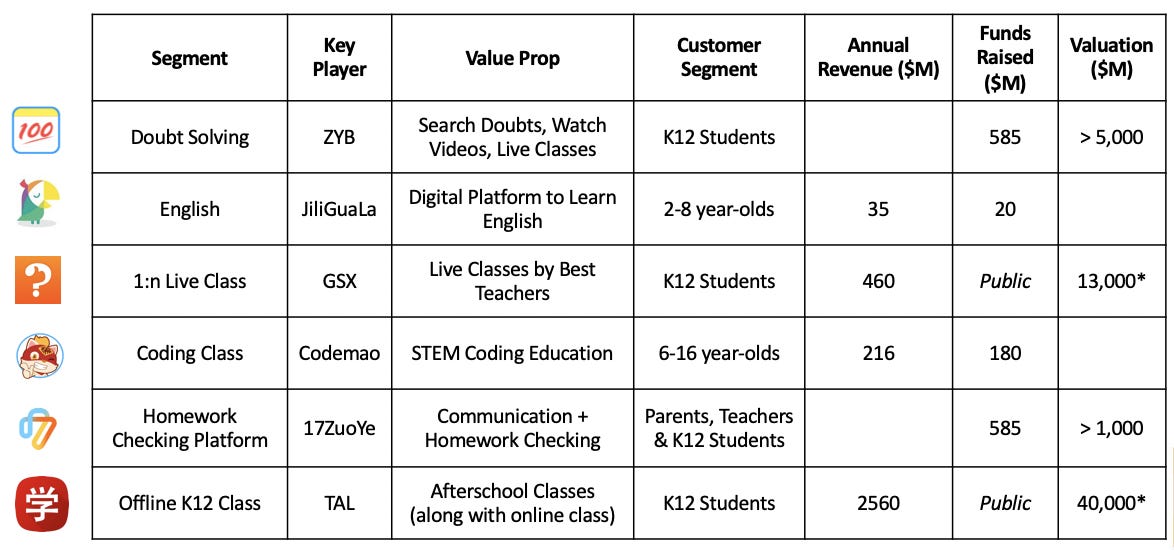 YFD covering China's K12 landscape across categories
BYJU's vertical spin to YFD's success
BYJU's recently acquired WhiteHatJr, which marked its foray into online coding education. Late-stage talks have also been reported for Doubtnut's acquisition, which is in the doubt-solving space (and will help Byju's take on Vedantu with an expected launch of live classes).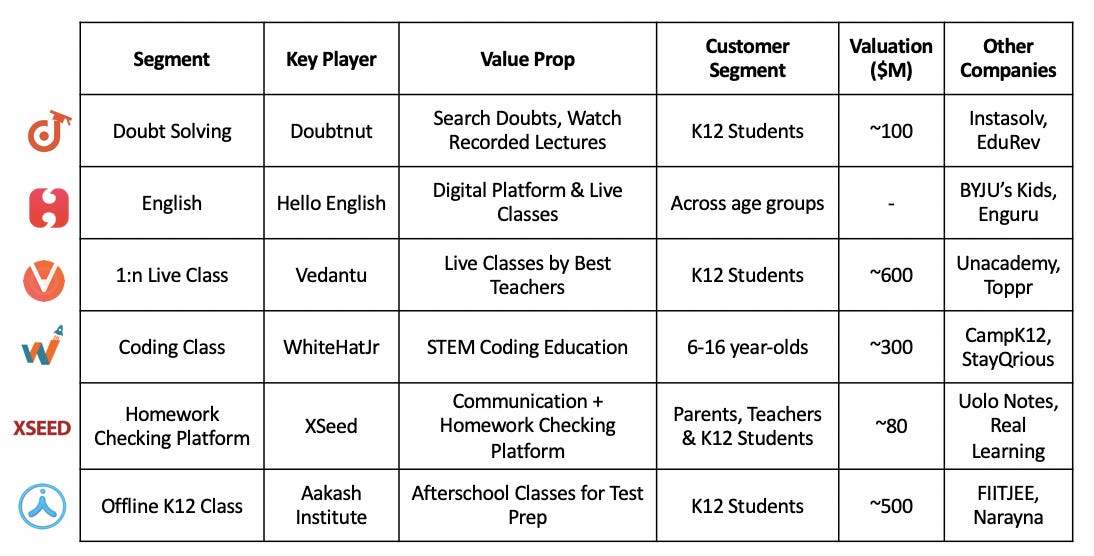 Even as the outcome of such talks remains to be seen, akin to YFD, BYJU's has demonstrated a willingness to open its umbrella to other brands through strategic acquisitions, albeit in the vertical chain. In this regard, listed below are potential deal synergies that could play out in the near future: 
→ BYJU's builds on its continuing overseas growth by helping its acquired brands to grow globally, leveraging its existing operations and channels in such markets;
 → BYJU's uses its existing team and operations to build similar sales funnels for its newly acquired brands to amp up the growth rate. This is since in spite of EdTech still being a high ticket-size business that requires efficient sales, BYJU's has so far proven to be a success in creating an efficient sales funnel.
Given that BYJU's recorded ~$375M revenue in the latest financial year and is diversifying into other sub-segments + expanding to overseas markets, a $10B+ valuation does not seem irrational. 
Note to EdTech founders and VCs: 
A common myth: After BYJU's, what's the right strategy to spot opportunities in K12? In EdTech space, startups need to build a unique pedagogy and curriculum, which is hard to copy. Moreover, given the market is big with various sub-categories, narrowing on the right market and value proposition coupled with an efficient delivery channel (e.g. Live 1:1, 1:many, 1:few, etc.) can help startups build MOATs. 
Given the highly unorganised offline after-school learning market is suddenly and rapidly moving online- and is likely to stay online post-Covid as well, the present is an excellent time to build EdTech companies.
---
Appendix:
1:n model provides for healthier unit economics —> Higher GM, Lower CAC

Estimate for YFD's unit economics per student (using the super app)